Written by – @JirayaReal
This post will cover:
What is ThorChain?
Why I'm Extremely Bullish
How to earn 60%+ APY on $BUSD & 40%+ APY on $UST
All of my Node profits over the last few months have been feeding this beast…wanna know why?
Lets dive in.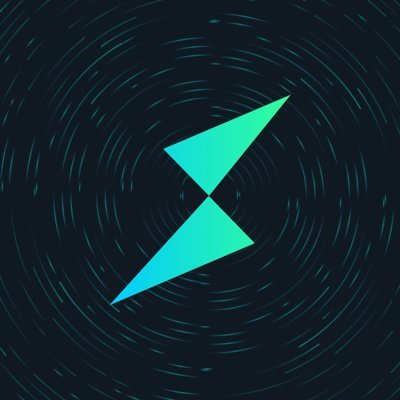 What is ThorChain ($RUNE)?
$RUNE is the first Multi-Chain Decentralised Exchange.
It is also the only Decentralised Exchange that allows you to swap native $BTC for native $ETH in a truly decentralised way without giving up custodial rights to your digital assets.
Why is this important?
One of the reasons why $BTC is a groundbreaking innovation is because it allowed you to transact peer-to-peer, in a trustless and decentralised manner – this meant that as long as you hold keys to your wallet, no one can take it away from you.
You own it.
However, when you want to transact and swap $BTC for $ETH, what's the most common way of doing so?
Transfer $BTC into Binance / KuCoin / Centralised Exchanges, then swap it for $ETH.
You're giving up custody to these entities who have the authority to freeze your assets.
One may argue…well, I can swap wrapped assets in a truly decentralised way.
Wrapped Assets have their intrinsic risks also (which I'll cover in a separate post)
Bridges, like Wrapped Assets, have their own risks also (see: Wormhole & Ronnin exploit for more details)
Why I'm extremely bullish?
There's two main reasons…
a. The Future is MultiChain, but not via Bridging.
b. $LUNA was integrated a few days ago..
2a. One massive barrier to Crypto Adoption is simply a lack of understanding.
Whilst bridging between several EVM chains may have become second nature to many, it remains a serious challenge to the masses.
Less than 1% of the entire human population understand Crypto.
If I have USD and I want to exchange it for GBP…
…I go to an exchange, and I submit the request, and a few minutes later I receive my GBP.
__
The future of Crypto should be the same, if I own $BTC, I should be able to press 1 button to get $ETH.
$RUNE facilitates this.
2b. Recently, $LUNA has been integrated onto ThorChain, $UST and $LUNA are now directly tradable for $BTC / $ETH and any other asset that ThorChain has integrated (soon, we can expect $AVAX and $FTM)
This integration lead to a spike in TVL & Volume on ThorChain!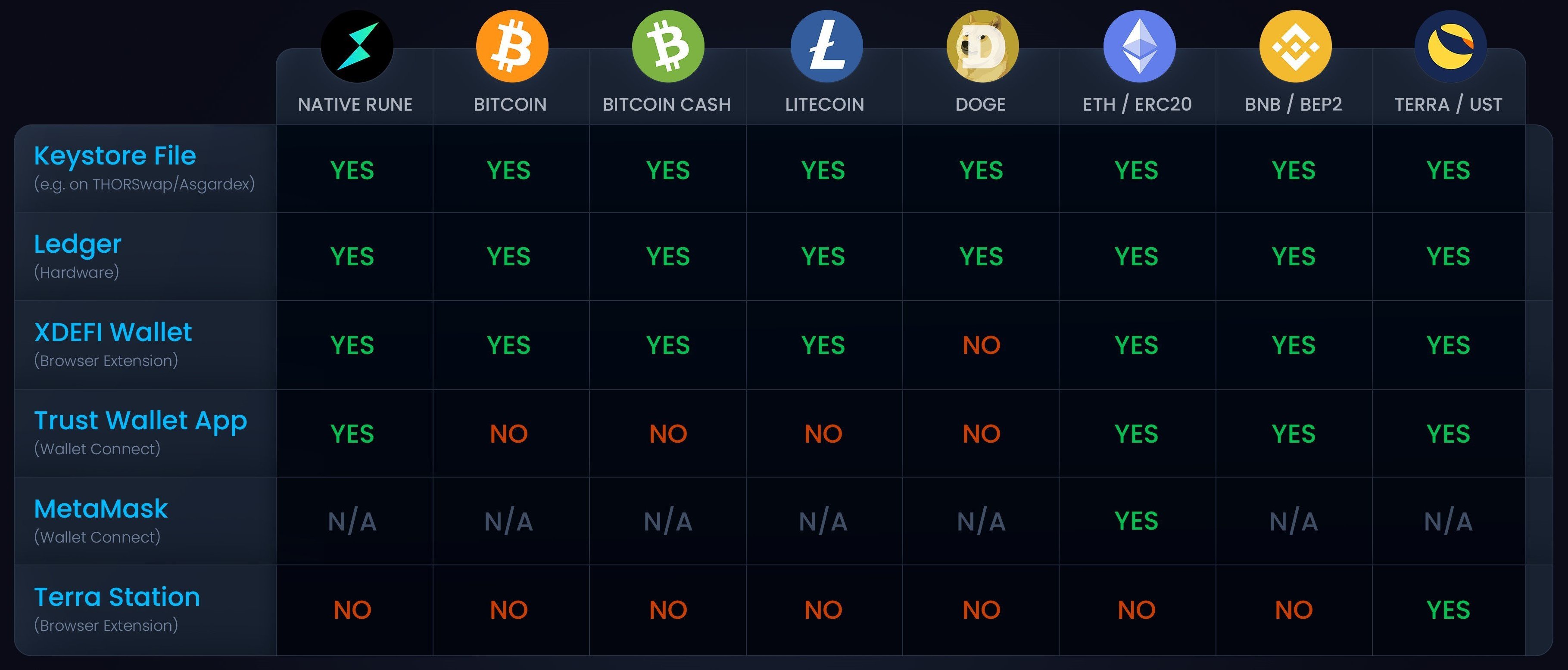 Due to $RUNE's design, $3 of $RUNE must be locked for every $1 of TVL.
Or simply put… $RUNE's Market Cap is *always* at LEAST 3x its TVL.
__
$UST has been integrated as I aforementioned, simultaneously Anchor has now passed a proposal to drop its rates from 19.5%.
Currently, you can LP $RUNE – $UST for 40% APY.
One might argue that LP's create Impermanent Loss..
Well, did you know that $RUNE has a mechanism called 'Impermanent Loss Protection' which essentially offsets any IL if you're in the pool for 100+ days.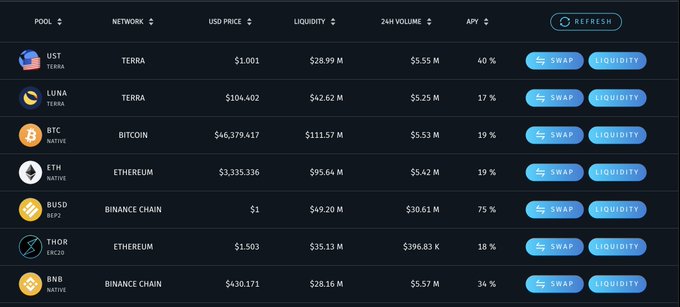 What I expect is a huge influx of volume from 'Lunatics' who wants to earn yield on $UST.
More $UST Locked –> Higher TVL –> More Rune Locked –> Higher MC –> $RUNE Price 🚀
__
You're LP'ing a Decentralised Stablecoin with a Decentralised Chain that allows NATIVE SWAPS.
3. How to earn 60% APY on $BUSD and 40% APY on UST
First things first, you need xDEFI wallet (MetaMask isn't compatible)
Click on //xdefi.io and setup your wallet.
(I recommend setting this up on Brave Browser)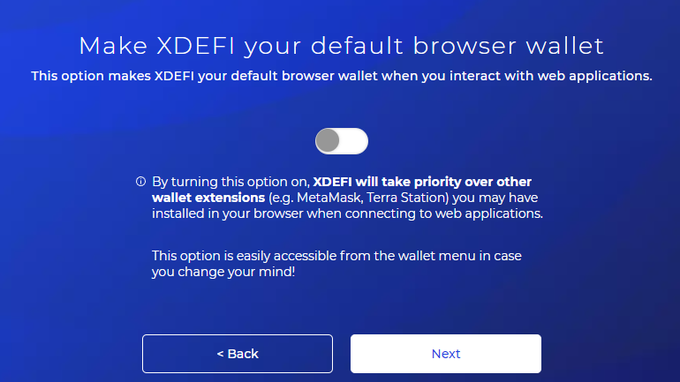 Toggle this 'ON' to make xDEFI your default browser wallet.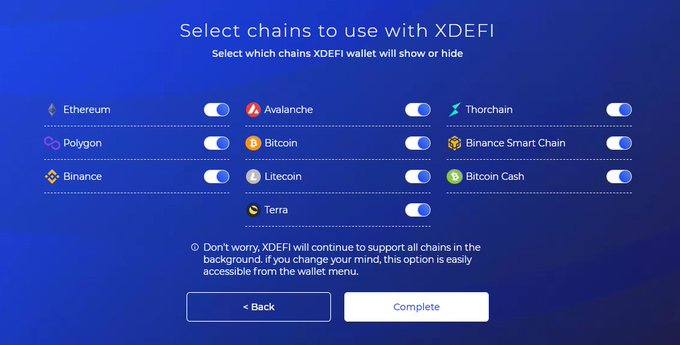 Connect all the Chains.
After setting up your wallet, open it by clicking the xDEFI icon on the top right hand side and you should see something like this.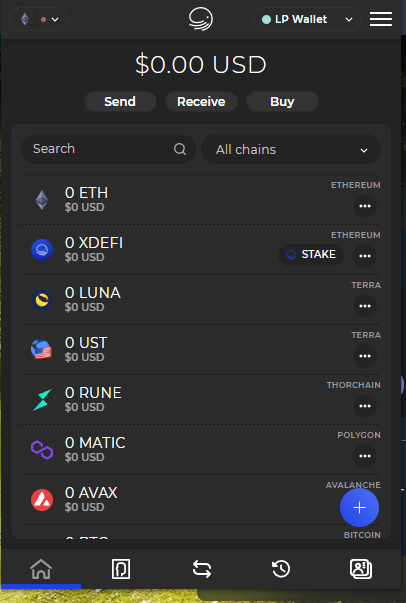 Click on 'Receive'
Select 'Binance' and generate a bnb address.
Head over to Binance and purchase ' $BNB ' and send the $BNB over to the address you just generated.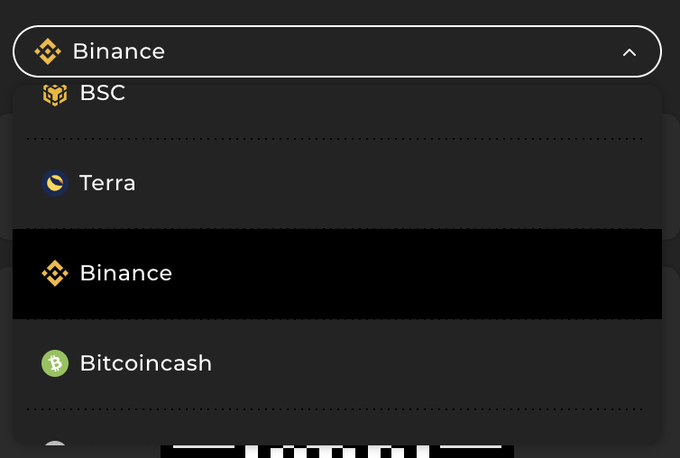 *(Start with just a little and make sure you got this step right before whaling in, you degen😉)*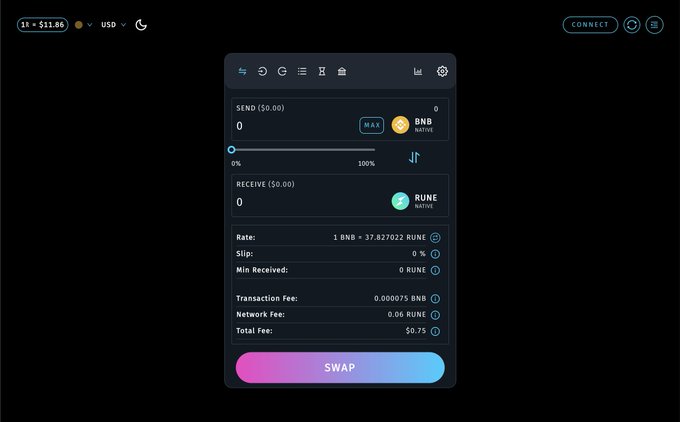 Click on //app.thorswap.finance/swap/BNB.BNB_THOR.RUNE and connect your xDEFI by clicking 'Connect' on the top right hand side.
Convert your $BNB into Native $RUNE.
Next, click on: //app.thorswap.finance/swap/THOR.RUNE_BNB.BUSD-BD1
-> Convert 50% of your $RUNE into $BUSD.
Then click on:
//app.thorswap.finance/add/BNB.BUSD-BD1
-> Add $RUNE and $BUSD in a 50-50 split and start earning 74% APY on your $BUSD.
___
Note: You can enter this LP asymmetrically (100% $RUNE or 100% $BUSD)
Concluding Comments:
If you don't want to LP $BUSD, you can also earn 40% APY on $UST, 19% APY on $BTC and 19% on $ETH.
This is my first 🧵 on ThorChain ($RUNE), expect them to improve with respect to quality & content as we dive deeper into the $RUNE ecosystem.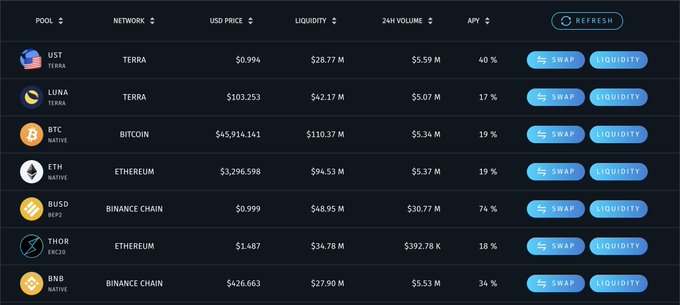 These are some influential accounts I've been following to learn more about the $RUNE ecosystem (I'm still a newb, but I'm trying my best!)
@THORmaximalist
@ChadThoreau
@TheRuneRanger
@wolf_of_defi
@ErikVoorhees
Give them a follow to learn more with me!
Risk Disclaimer:
__
All Investments into Cryptocurrency & other Financial Assets carries great risk, you can and may lose all your funds.
Invest what you're willing to lose.
Please conduct your own research to validate the points aforementioned.
NFA.
__
If you enjoyed reading this 🧵, follow me @JiraiyaReal for the information regarding all kinds of DeFi Protocols & predominantly passive income plays.